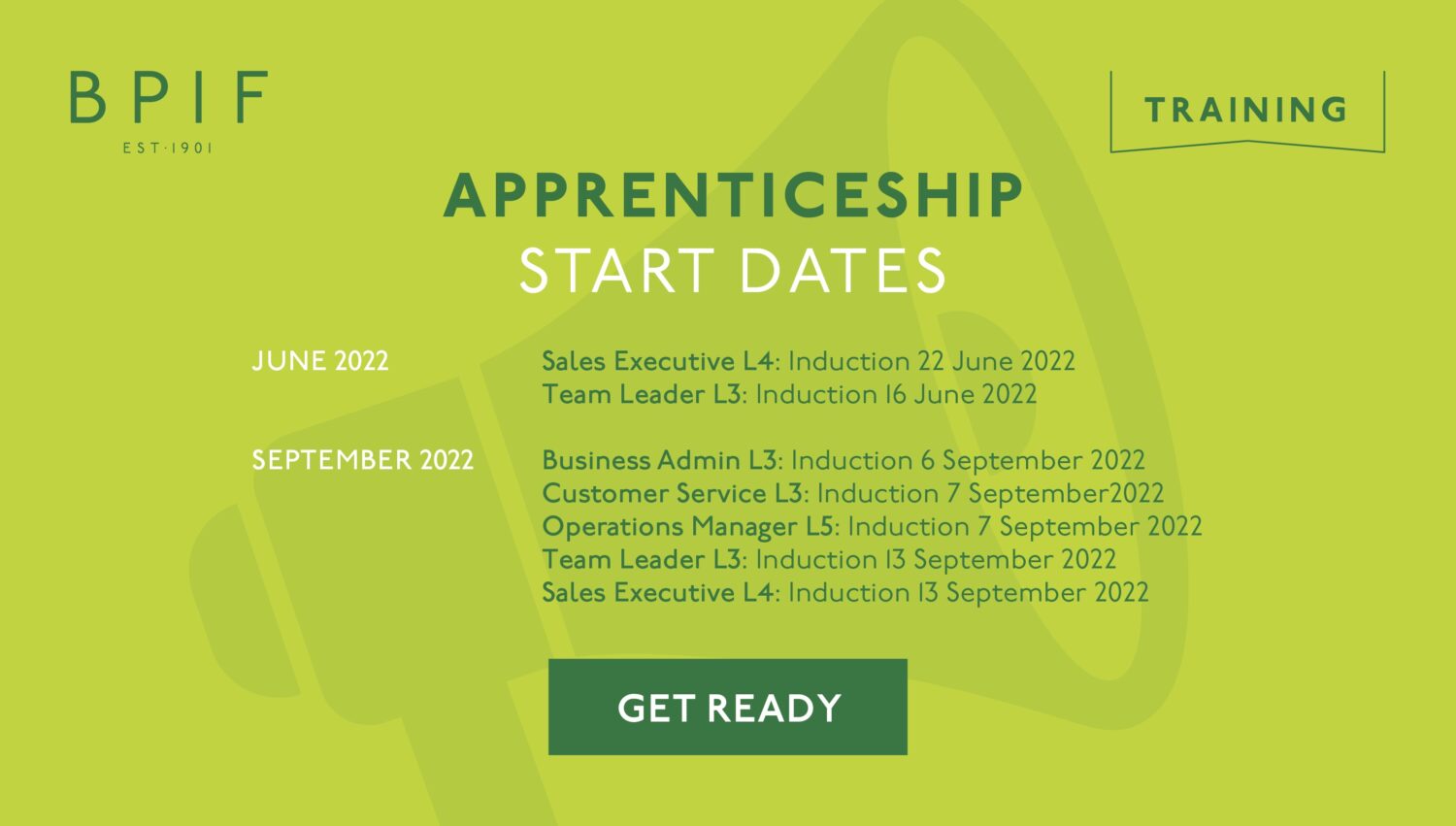 BUSINESS SKILLS APPRENTICESHIPS – PROGRAMMES STARTING SOON
Are you looking at your Learning and Development Plans for next year? If so, look no further. Whether you are looking to upskill your workforce or garner new recruits we have the course for you with programmes starting in June and September.
If you would like more information on a specific apprenticeship programme, or just to understand apprenticeships more contact us at [email protected] or register your interest using the form below.
SALES EXECUTIVE LEVEL 4 – Starting 22 June 2022 & 13 September 2022
Aimed to promote sound product knowledge, develop the general principles of negotiation and persuasion, help build a strong competitor knowledge and develop a better understanding of the market. Key themes include:
Continuous professional development
Time management
Organisational, market & sector knowledge
Customer knowledge• Commercial acumen
Customer experience management
Propose & present solutions
Sales planning & preparation
Team working• Ethics & integrity
Negotiation & persuasion
Overcoming objection
TEAM LEADER / SUPERVISOR  LEVEL 3 – Starting 16 June 2022 & 13 September 2022
Designed for aspiring Managers / Supervisors, Project Managers, Team Leaders, Junior Managers and Middle Managers, this  Apprenticeship covers:
Leading People
Managing People
Building Relationships
Communication
Operational Management
Project Management
Awareness of Self
Management of Self
Decision Making
BUSINESS ADMINISTRATOR LEVEL 3 – Starting 6 September 2022
This apprenticeship is aimed at enabling individuals to support and engage with different parts of an organisation, and to interact effectively with internal or external customers. Key topics include:
Record and Document Production
Decision Making
Building Relationships
Communication
Project Management
Finance
Interpersonal Skills
Digital Skills
Planning and Organisation
Meeting Regulations and Legislation
CUSTOMER SERVICE SPECIALIST LEVEL 3  – Starting 7 September 2022
By the end of these apprenticeships, the apprentice will be a 'professional' for direct customer support within your organisation. Topics include:
Business-focused service delivery
Providing a positive customer experience
Working with your customers / customer insights
Customer service performance
Service improvement
Ownership/ Responsibility
Team working
Equality
Presentation Skills
OPERATIONS /DEPARTMENT MANAGER LEVEL 5 – Starting 7 September 2022
Aimed at those responsible for managing teams and/or projects, and achieving departmental goals and objectives as part f the organisation strategy, this high level apprenticeship equips individuals in the following areas:
Operational Planning and Management
Managing Teams
Communication
Personal and Professional Development
Managing Risk
Financial Management
Negotiation and Persuasion
Project Management
Emotional Intelligence
Problem Solving and Decision Making
Register your interest below or contact us for more information