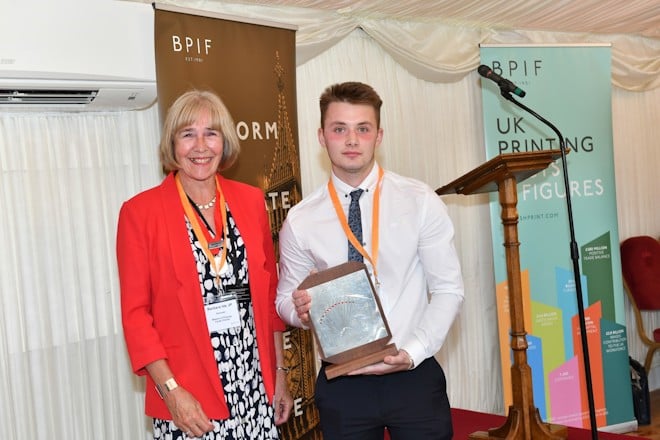 Awards now open for entries!
AWARDS NOW OPEN FOR ENTRIES!
Give a young person the recognition they deserve
Applications are now open for the Victor Watson Trophy – nominate your
Young Person of Outstanding Achievement today!
Launched in memory of Victor Watson CBE DL it is open for any young person (under the age of 31 at the time of the presentation) employed in the printing and related industries. The nomination form is easy to complete.
Every entry will receive a framed Certificate of Nomination. The winner will be presented with the Trophy at the BPIF Reception at the House of Lords on 13th July and an opportunity to receive a £1,500 bursary from The Printing Charity.
It is supported by the BPIF, The Printing Charity and The Worshipful Company of Makers of Playing Cards Deadline for applications is Thursday 22 June 2023.
2022 Award winner: Ethan Hull from Northend
Apply for a career-enhancing award
The Kathy Woodward Award for Learning was launched in 2015 in memory of the BPIF's much loved CEO who sadly passed away in 2014. Sponsored by Webmart, the £1,000 Award supports individuals in the print, packaging and graphic design industries to further their careers.
Deadline for applications is Thursday 22 June 2023.
2022 Award winner: Rebekah Selwood-Starr from Berkshire Labels
The awards presentation will take place at the BPIF Annual Print Reception at the House of Lords on Thursday 13 July.
For any questions, please email Heena Bulsara at [email protected].
If you know of anyone who you feel deserves the opportunity to apply, please pass this email on to them!
Problems viewing this email? Click here.
This email not your cup of tea? No worries… BPIF members can amend their mailing preferences by logging into their accounts here.
Don't want to receive these emails? Unsubscribe.
Founded in 1901 © 2023 British Printing Industries Federation Ltd,  Company Registration No. 04340242