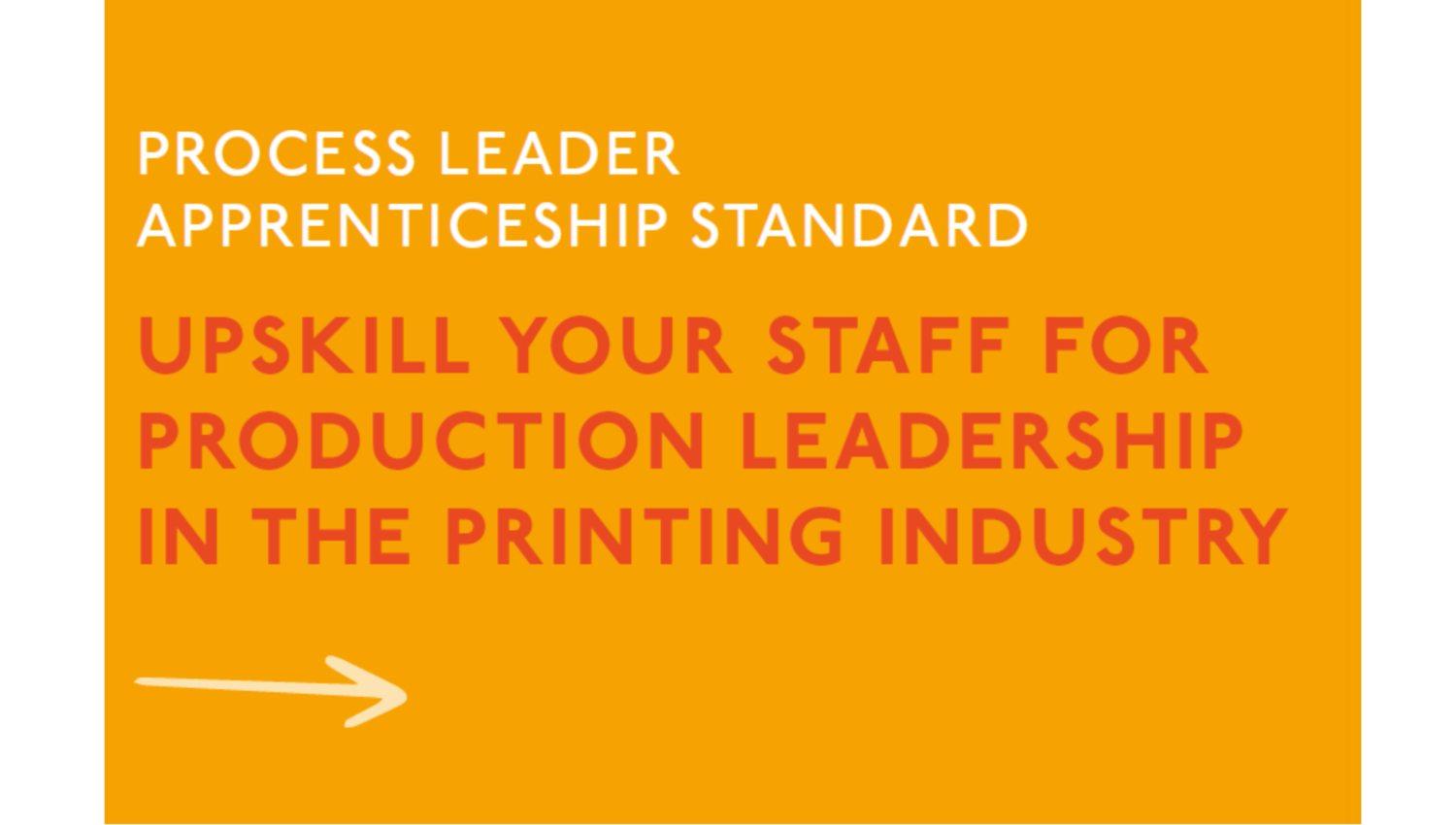 INTRODUCING THE PROCESS LEADER APPRENTICESHIP STANDARD
Is your company looking to enhance its production leadership capacity? We have an excellent solution for you! Introducing our Process Leader Apprenticeship program, designed to empower your staff with the essential skills and knowledge needed to become exceptional leaders in the print industry.
Aimed at Print Technicians looking to take on a production leadership role, or those new to production management, this apprenticeship will equip them with a comprehensive set of competencies that will drive productivity, efficiency, and quality within your organisation. Here's what our program offers:
KNOWLEDGE
Comprehensive Knowledge: Our apprentices will gain a deep understanding of production and manufacturing principles, including material handling systems, maintenance, production planning/scheduling, ergonomics, and more
Resource Management: They will learn how to identify and procure the necessary resources, leveraging management tools like the Internet of Things (IoT) and Industry 4.0, to ensure optimal operational performance
Cost Control: Apprentices will be trained in budgeting, forecasting, and cost control techniques, enabling them to effectively manage direct and indirect costs, fixed and variable costs, and more
Lean Operational Excellence: Your team will become proficient in lean operational and quality improvement practices such as workplace organisation, waste reduction, and shop floor problem-solving
Quality Management: We will teach your employees how to deliver robust quality management and assurance systems, ensuring that your organisation consistently produces high-quality outputs.
SKILLS
In addition to gaining technical expertise, our apprentices will develop a diverse set of leadership skills to effectively guide and motivate teams:
Undertake and direct production activities and operations.
Propose, manage, and coordinate changes to improve productivity, efficiency, and quality.
Solve problems by analysing data, predicting failures, and implementing appropriate solutions.
Provide clear direction and leadership, adapting their style to different production situations and people.
Build and maintain strong relationships across different disciplines. Negotiate and influence. Manages conflict.
BEHAVIOURS
By investing in our apprenticeship program, you will cultivate a pipeline of capable leaders who will contribute to your company's growth and success. Our apprentices will exhibit the following behaviours that align with your organisation's goals:
Decision Making: They will make informed decisions, taking into account stakeholder interests and assuming responsibility for their actions.
Agile: Our apprentices will embrace change, exhibit creativity and innovation, and adapt to new ways of working while maintaining a positive attitude.
Inclusive: They will foster an inclusive and diverse culture, build trust among team members, and actively seek and provide feedback for continuous development.
Problem Solver: Apprentices will be adept at identifying and solving complex problems, ensuring the implementation of sustainable solutions.
Furthermore, our program emphasises professionalism, instilling a sense of accountability, fairness, consistency, and impartiality in your future leaders. They will uphold your organisation's values and promote a culture of excellence and continuous improvement.
Don't miss out on the opportunity to build a strong and capable production leadership team! Enrol your employees in our Process Leader Apprenticeship today and witness the positive impact on your organisation's performance.
To learn more about the program, contact us today or register your interest below and one of our team will be in touch to discuss further.